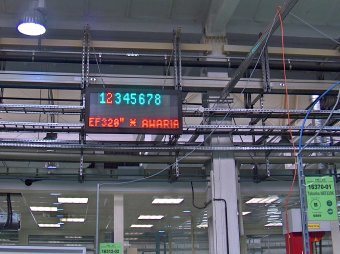 Solution Overview
Andon is an integrated computer system for signaling, visualisation and reporting of events occuring at manufacturing line.
It provides instant, visible and audible warning to the operations team that there is an abnormality within that area.
Jidoka Quality Control Process

Jidoka is Japanese term also known as "autonomation" ("automation with a human element") and refers to principle of stopping work immediately, when a problem occurs.
Andon system is one of the elements that make up the principle of Jidoka. It is a technical installation supporting execution of four-step process of abnormality handling:
Detect the abnormality.
Stop.
Fix or correct the immediate condition.
Investigate the root cause and install a countermeasure.
For JIT - Just-in-time - systems, it is absolutely vital to produce with zero defects, or else these defects can disrupt the production process - or the orderly flow of work.
JIT and Lean Manufacturing are always searching for targets for continuous improvement in its quest for quality improvements, finding and eliminating the causes of problems so they do not continually crop up.
Jidoka involves the automatic detection of errors or defects during production. When a defect is detected the halting of the production forces immediate attention to the problem.
The halting causes losing production but it is believed that this helps to detect a problem earlier and avoids the spread of bad practices.